About Us
President's Message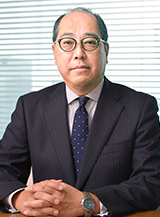 I am delighted to have this opportunity to address you in my role as President and CEO of Mitsubishi Corporation RtM Japan Ltd.
Mitsubishi Corporation RtM Japan Ltd., a subsidiary of Mitsubishi Corporation, is a metals and mineral resources trading company, which deals in a wide spectrum of general metal resources and materials, including coal and iron ore, aluminum, copper, and precious metals, as well as nickel, chrome and rare metals.
RtM stands for Resource to Market, and that is precisely what we are all about. Our driving business principle is to connect customers with suppliers of metals and mineral resources in the most effective and efficient way possible. We firmly believe that providing this vital bridging function will not only help protect our global environment, but also help nurture sustainable social development.
Mitsubishi Corporation RtM Japan serves as the Japan base for Mitsubishi Corporation's global RtM business and boasts an impressive workforce with extensive expertise and experience in their respective product and business fields. Mitsubishi Corporation RtM Japan works closely with the Group's global headquarters in Singapore, Mitsubishi Corporation RtM International Pte. Ltd., leveraging on the Group's own extensive worldwide network to stay abreast of the rapid globalization of customer business.
From the world to Japan, from Japan to the world. Our ultimate quest is to connect resources and markets in the most effective way possible, while heeding attentively to the needs of both our stakeholders and society at large. We seek to earn the respect and trust of our customers with continuous efforts and innovated idea and offering incremental added value in metal resources trading.
Personally, I intend to work tirelessly to ensure a prosperous future for our company, and I offer my genuine thanks for your loyal support and keen interest in our business activities.
April 2019

Yoshikazu Enomoto
President and CEO